TOPLA PzV VRLA GEL TRACTION BATTERIES
Maintenance free TOPLA PzV VRLA Gel motive power batteries are highly sophisticated traction batteries. Sealed TOPLA PzV batteries are produced in VRGLA Gel technology (Valve Regulated Lead Acid batteries with electrolyte in the form of gel) according
to EN 60254-2 standard.

They can be used in all kind of electrical appliances like:
forklift trucks,
cleaning machines, etc.

Due to its high operational safety and high degree of enviromental frendliness TOPLA Gel battery is particularly suitable for applications in pharmaceutical, food, chemical and similar industries.
Main features:
Maintenance free.
Incorporated valves in exhaust tubes prevent corrosive gas release.
Extremely low self-discharge.
Extremely low gassing during operation.
Maintenance errors are minimised.
No electrolyte leakage in case of cell damage.
No contamination or corrosion due to leaking electrolyte.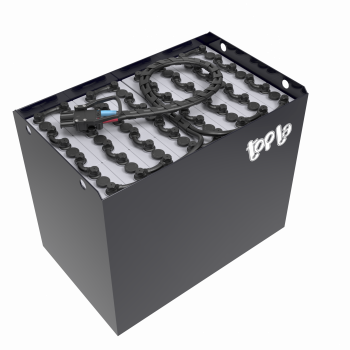 TOPLA TRACTION PzV Gel
55 Ah

[h1=340, h2=350 mm | length=198 mm]
Cell
Capacity
Width
Weight
C5
mm
kg
2 PzV 110
110
47
9.3
3 PzV 165
165
65
12.7
4 PzV 220
220
83
16.5
5 PzV 275
275
101
20.1
6 PzV 330
330
119
23.8
7 PzV 385
385
137
27.4

70 Ah

[h1=402, h2=412 mm | length=198 mm]
Cell
Capacity
Width
Weight
Type
C5
mm
kg
2 PzV 140
140
47
10.8
3 PzV 210
210
65
15.5
4 PzV 280
280
83
19.7
5 PzV 350
350
101
24.2
6 PzV 420
420
119
29.1

80 Ah

[h1=472, h2=482 mm | length=198 mm]
Cell
Capacity
Width
Weight
Type
C5
mm
kg
2 PzV 160
160
47
12.7
3 PzV 240
240
65
18.1
4 PzV 320
320
83
23.6
5 PzV 400
400
101
29.0
6 PzV 480
480
119
35.0

100 Ah

[h1=563, h2=573 mm | length=198 mm]
Cell
Capacity
Width
Weight
Type
C5
mm
kg
2 PzV 200
200
47
14.7
3 PzV 300
300
65
21.6
4 PzV 400
400
83
27.8
5 PzV 500
500
101
34.3
6 PzV 600
600
119
40.6

120 Ah

[h1=720, h2=730 mm | length=198 mm]
Cell
Capacity
Width
Weight
Type
C5
mm
kg
2 PzV 240
240
47
19.7
3 PzV 360
360
65
27.4
4 PzV 480
480
83
35.3
5 PzV 600
600
101
42.1
6 PzV 720
720
119
50.0
TOPLA TRACTION PzVB Gel
61 Ah

[h1=472, h2=350 mm | length=158 mm]
Cell
Capacity
Width
Weight
Type
C5
mm
kg
2 PzVB 122
122
45
9.7
3 PzVB 183
183
61
13.5
4 PzVB 244
244
77
16.9

71 Ah

[h1=516, h2=530 mm | length=158 mm]
Cell
Capacity
Width
Weight
Type
C5
mm
kg
2 PzVB 142
142
45
10.6
3 PzVB 213
213
61
14.8
4 PzVB 284
284
77
18.5

85 Ah

[h1=611, h2=625 mm | length=158 mm]
Cell
Capacity
Width
Weight
Type
C5
mm
kg
2 PzVB 170
170
45
11.8
3 PzVB 255
255
61
16.1
4 PzVB 340
340
77
20.7